How can I register on Locarto?
Go to "LOGIN"
Klick "GET STARTED" under "I am a professional user" button
If you are going to enter exhibitions, remember to choose the category "I am a Professional User"
Fill in rest of the form, and confirm you are not a robot before clicking "SIGN UP"
You will now have an email from Locarto where you must verify your account.
When you have verified your account, you can log in and enter your "dashboard". Remember to log in as professional user.
Start Entering your company details by choosing "Company profile" In the menu at the left hand side.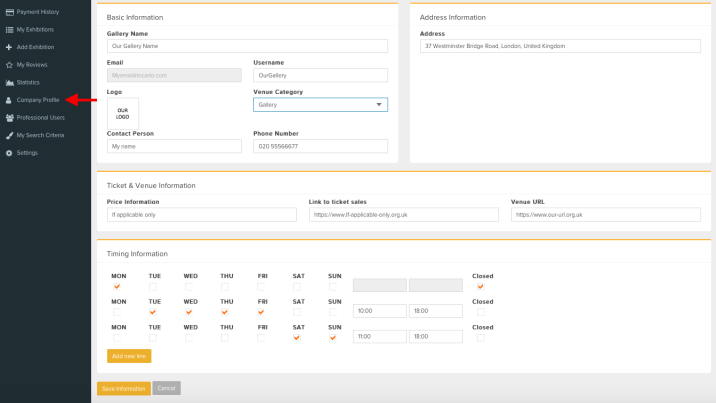 Start filling in the "Basic information"
Fill in your address. Google shall pick the address up. If it doesn't do that, pick an address nearby, and contact us for support. support@locarto.com
You can add information about ticket prices and link to ticket sales if you do tickes sales. Also, the link to the website which will link through the logo in the exhibition presentation.
Soon we will also launch a new version of the website with a gallery and museum presentation. For this presentation it will be some additional information needed. Dont miss to fill it in when we launch the new edition.
For opening hours, you tick all days with the same opening hours, and set the opening and closing time for these days. You can add as many lines as needed to fill all days of the week. Days that are closed, simply tick closed at the end of the line.
Klick "SAVE" when finished, and your profile is ready.
You are NOW ready to list Exhibitions.
To display all the relevant information to Locarto users, fill in the whole presentation form.
Exhibition title
Start and closing date (if the exhibition is a permanent exhibition, tick the permanent exhibition box)
If the exhibition has other opening hours than entered in your Museum or Gallery profile, you can set new opening hours.
Short description. This comes up in the window on the web, and will be used when posting on Twitter.
Long description will be shown in the exhibition description.
Upload images, (press save media between each image) You can choose the heading image by klick the image.
If you have any videos, they must be converted to mp4 format to be uploaded to the Locarto platform.
Remember to choose the correct user group. (Museum, Gallery or Other exhibition organizer (ex. Art Fairs )
Search words is words that makes it easier for the users to find the exhibition through search.
Both information and visuals can be saved for later activation if you so choose.
You can update information and visuals at any time before and during the exhibition. Once activated, these will be visible for the entire duration of the exhibition.